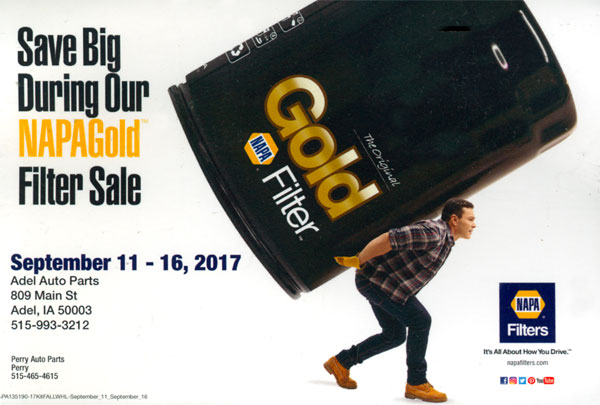 September is a great month to maintain your car with the Adel Auto Parts Corporation!
Mark your calendars for the NAPA Gold Filter Sale, September 11th – 16th, 2017.
There's never been a better time to get with the Program. The NAPA Filters Program keeps you running and saves you money at every turn.
Complete filter coverage. Reliable delivery. And a preventive maintenance survey. Stop in and talk to owner John Standley and his team to find out more about this great program at Adel's local NAPA store.
Don't forget to check out www.AdelAutoParts.com for all current specials plus NAPA Know How and the mobile app for NAPA Know How.
Make Us Your Engine Protection Connection, don't miss this Great opportunity to save!
Adel Auto Parts Corporation
809 Main Street • Adel, Iowa 50003
Phone: 515-993-3212
Perry Auto Parts
1001 3rd. St. • Perry, Iowa 50220
Phone: 515-465-4615
Hours: 
Monday – Friday 7:30 am – 5:30 pm 
Saturday 8:00 am – 3:00 pm